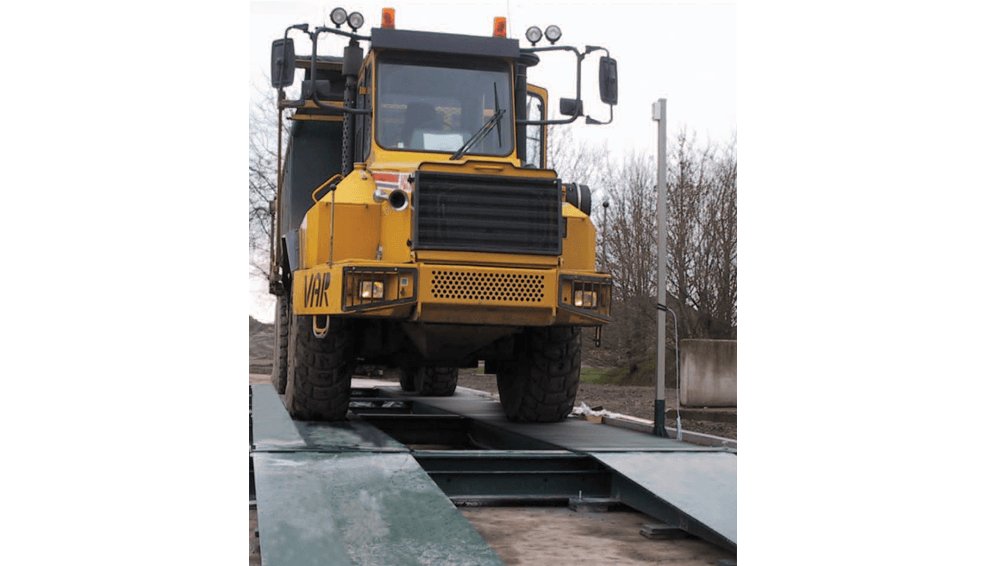 TS300 N easily movable - Pitless mounted steel weighbridge
A unique foldable design and pre-mounted loadcells makes installation and relocation extremely easy.
Basic features
Steel weighbridge with factory pre-mounted load cells.
Possibility of Initial Verification or Metrological testing in our factory.
Extremely Easy to install and relocate as completely modular construction with a height of only 280 mm and no special foundation requirements.
Design spec covers spark and static electricity prevention as well as gas accumulation underneath the platform.
Specifications
| | |
| --- | --- |
| Weighbridge Type | - Made of 3 x Modules laid on pre-mounted load-cells - Fully Electronic - Fully floating with special longitudinal & lateral bumper assembly - Foldable design. No need to dismount loadcells while moving the weighbridge. - Thick and wide 20 mm foundation plates make it possible to place the weighbridge on any concrete or asphalt surface without need of foundations. - Can be installed using a forklift. |
| Platform Size | 18 m x 3m |
| Maximum weighing Capacity | 70 ton-15t/axe+20% Dynamic load. |
| No. of Load Cells | 8 |
| Division | 70.000/20kg |
| Top surface | Upper part of HEA 200 profiles. |
| Load Cell Type / Capacity | Compression / 30t |
| Low 280 mm height | An ideal solution for under silo loading |
| Easy Connection of middle drive module | Connection of middle drive module is done easily by posing the edge of the module on a reception axe.No need of bolts and screws. |
| Unique feature of loadcell leveling | In case of foundation wrong horizontality, we propose a simple and economical way to level the loadcell and position them all at same level |
| Unique adjustable height ramp | In case that ramps need an adjustment we supply a ramp adjustment mechanism for easy installation |
| Half normal truck for transportation Small fork lift for installation | Installation easily made with a small forklift. No need of expensive cranes. |
| Side Force Elimination | Adequate lateral and longitudinal bumper arrangement on entry exit ramps |
| Option: no middle gap | As an option we supply extra profiles to cover the middle gap. |
| EX PROOF | Because of gaps on the top of the platform makes the TS 300 N an ideal solution for Explosion proof applications as gazes do not get accumulated under the platform and cause a possible explosion |
| Option: extra thick foundation for compacted earth foundation or clearance concrete | By increasing the loadcell size of the foundation plates can be installed on any compacted earth or clearance concrete surface. In case of scale relocation steel foundations remain attached to the scale. |
| Factory made initial verification | We can verify the scale before dispaching. Loadcells remain at their position through a bolt mechanism .For remote geographic areas difference in G factor is taken into consideration |
| Option: Remote installation supervision and servicing. | It is possible to remotely supervise TS 300 N installation and commissioning to avoid expensive travelling. |
| Surface treatment | Epoxy paint RAL 7016 or optionally Galvanized |
| Standard of material of Construction | First quality construction Steel S275 |